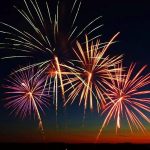 Canada Day is a great time to visit the Parry Sound area. Our communities are hopping with lots of action all weekend long! The annual Canada Day celebration and fireworks display takes place throughout the Parry Sound area all weekend long!
Celebrate Canada 150 in the heart of Parry Sound! Enjoy family fun and free activities, beginning at 11 AM in the Stockey Centre lot. Grab some food and do some shopping in the Vendor Village, and don't miss out on the entertainment scheduled throughout the day at the Town Dock Bandshell. And of course, be sure to catch the breathtaking fireworks display at dusk!
Canada Day entertainment in the Town of Parry Sound includes:
• Performances by ALAKAZAM, "The Human Knot"
• Performance by Lukas Stark, the Mystery Entertainer
• Kids Zone inflatables and activities
• Bands on the Bay
• Performances by outstanding Parry Sound's Got Talent acts
• Whispering River Orchestra
• Seguin Sam & Seguin Sarah Costume Contest
• Face painting & balloon artists
• Food and Craft Vendor Village
• Fabulous fireworks display at dusk!
Free Concerts at the Stockey Centre on Saturday
2:30pm – Terry Little and the Rhythm Boys
Terry Little "The Carling Fiddler", an ever-popular crowd-pleaser will play here with special guests and friends, and not to be missed: a square dance.
4pm – A Downstairs Band
A high energy rock band that plays uptempo Rock and R&B hits and Ballads from the 50's through the 80's.
They will also perform several originals from their recent Rock & Country influenced CD MOVIN' .
6:30pm – Chris Mapstone
A world traveller, Mapstone's songs have been influenced by rich cultural and musical experiences, and his musical repertoire consists of playing the guitar, didgeridoo, percussion, harmonica, wooden flutes and singing.
7:30 – 9:30pm – Stevie Jewel
Grammy Award nominee Stevie Jewel is
Katy Perry meets Country with a twist of Southern Rock.
Check the Town of Parry Sound's website for other Canada Day Festivities at parrysound.ca
Annual Festival Of The Sound Island Queen Cruise
Celebrate Canada Day on the Island Queen with End of the Road and its lively mix of traditional,folk and Maritime tunes. A fabulous fireworks display brings the evening to a happy close. Departs at 7:00 pm and returns by 10:00pm in time for the fireworks. Buy tickets today!
Pointe Au Baril Celebrates Canada 150!
If you find yourself in Pointe Au Baril on Canada Day be sure stop at the Pointe Au Bairl Community Centre and local waterways. The community has a  fantastic day planned! Click  here to view the full schedule of activities.
What better way to kick-off the summer and celebrate the 150th birthday of this great nation. Parry Sound is only 2 hours north of Toronto and offers plenty of cool vacation spots. Book your Canada Day vacation in cottage country here.


Image credit: Matt Downing
Things to Do, Places to Eat & Places to Stay…
Explore by Pedal

Georgian Bay Sightseeing Tours
Parry Sound Charter Fishing and Taxi
Georgian Bay Adventures
Bear Claw ATV Tours – Georgian Bay's Ultiimate Adventure
Local Places to Eat – Dine
Explorer Tip
Parry Sound hugs the shores of the world's largest freshwater archipelago, known as the 30,000 Islands. In 2004,UNESCO designated the area as a World Biosphere Reserve, the Georgian Bay Biosphere Reserve.
Let us help you plan your next vacation. Visit today and explore the world's largest freshwater archipelago, known as the 30,000 Islands. Explore, Eat, Stay, Discover Parry Sound, Ontario Georgian Bay.
Make it a weekend getaway and find accommodations near by. Add one one of these great tours and attractions to your getaway to the Parry Sound Area of Explorers Edge.
Sign up here to receive The Parry Sound Tourism newsletter to get tips, tales, deals and travel packages for your next adventure in Parry Sound