Bands on the Bay performs at the Stockey Centre on Tuesdays at 7:00pm. Bringing you a full evening of music over looking beautiful Georgian Bay. Bands that perform play classic music and use both acoustic and electric instruments.  Food and drinks are served on the fully licensed deck.
In case of rain, the performance continues in the Performance Hall of the Charles W. Stocky Centre. Every concert is different and exciting, with great music, great people, and a great night!
The Battle of the Bands on the Bay is Back this summer! 
All summer long, at each Bands on the Bay Concert, you can vote for your favourite band. The band at the end of the summer with the most votes wins a concert date on the Stockey Stage in the Performance Hall.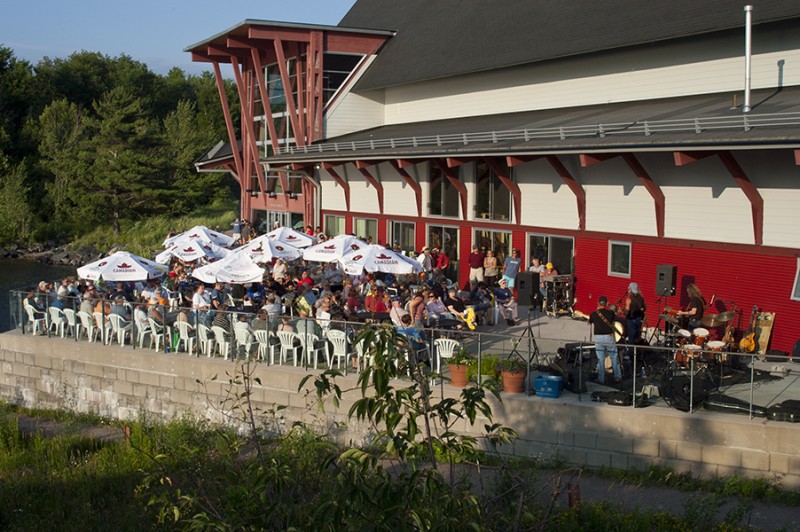 Gary Klayton, June 27th
Gary is not just a songwriter but a songsmith. Without using rhyme patterns, he bends and shapes words to tell his melodic stories.
Zach Lucky, July 4th
Zachary Lucky is unapologetically old-school country and his honest, soulful sound will haunt you and remind you of what folk and country music was conceived as.
The Redhill Valleys, July 11th
The Redhill Valleys are an original 3-piece Folk/Rock group, rooted by their influences in southern rock, acoustic Americana and soul. The Redhill Valleys scored a big hit locally with their song Parry Sound.
Angie Nussey, July 18th
Angie Nussey is an award-winning Canadian recording artist. Since 1999, she has released six full-length albums and won over 15 industry awards for songwriting, vocals, and performance.
Filthy Rich and the Empty Pockets, August 22nd
Filthy Rich and the Empty Pockets is cottage country's best cover band. This dynamic quintet brings a classic-rock radio sensibility to their exciting performances. Get up and dance to the music you love.
befreeyourself, August 29th
Creative talent does not add up, it multiplies. befreeyourself is an ever growing, dynamic band of people featuring a wide range of acoustic and electric music.
Plan Your Stay
Make it a weekday getaway and find a hotel nearby. Add one one of these great tours and attractions to your getaway to the Parry Sound region of Explorers Edge.
Explorer Tip
Did you know the The Rotary Algonquin Regiment Waterfront Trail is a Georgian Bay Biosphere Reserve Amazing Places.
Let us help you plan your next summer vacation. Visit today and explore the world's largest freshwater archipelago, known as the 30,000 Islands. Explore, Eat, Stay, Discover Parry Sound, Ontario Georgian Bay.